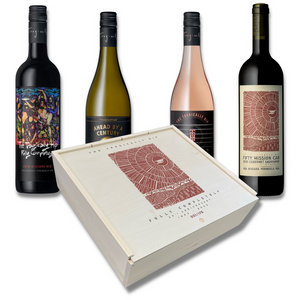 In celebration of the 30th anniversary of Fully Completely, Stoney Ridge Estate Winery has created a one-time limited edition production of 175 wine crates containing a bottle of each of The Tragically Hip wines including a bottle of the just released inaugural vintage of 50 Mission Cab. Each collector's Crate is hand made locally, numbered with an engraving in the wood, and contains winemaker notes on the wines. This limited edition Wine Crate includes a bottle of Fully Completely Reserve Red, Flamenco Rosé, Ahead by a Century Chardonnay and 50 Mission Cab.
Available now in-store at Niagara Custom Crush Studio, 3201 King Street Vineland.

PLUS FREE SHIPPING WITHIN ONTARIO!