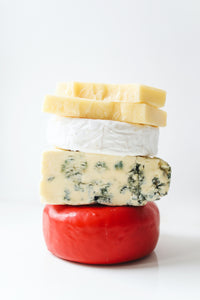 Unique Artisan Cheeses Delivered to your Doorstep
Each quarter, we will deliver a delicious selection of unique, artisan cheeses from specialty, gourmet producers around the world! 
Along with a selection of artisan cheeses, each shipment will include a gourmet accompaniment.
Delivery Area includes GTA, Southern and Southwestern Ontario, Northern Ontario (to Barrie), and the Niagara Region.
$79.95 
/ 4 times a year |
March, June, September, December
Recurring Subscription - You will be billed every three (3) months for a total of four (4) payments.
What's Included:
Three to Four Artisan Cheeses (150g+ each)

Tasting Notes

Pairing Recipes

Curated gourmet offerings

Passes to member events (virtual and in person)

Exclusive offers and 15% discount at The Cheese Cellar for Club Members

Shipping

Refer-a-friend gift