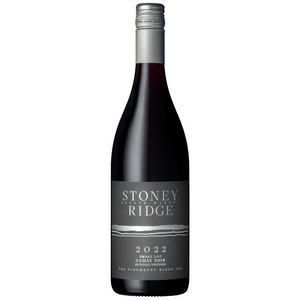 The Vintage:
2022 got off to a very cold start, with extreme cold temperatures throughout January across the province. While the spring months were cooler than average, June was relatively warm and dry, followed by intense heat in July and August. Conditions for harvest were quite favourable, with wineries reporting a broad window of opportunity to bring in grapes. September was dry and reasonably warm, and enthusiastic growers made quick work of the relatively light harvest. With the cold winter, crop size was the main story for 2022, but fruit quality was excellent and the grapes that were brought in had winemakers wishing for more!
Tasting Notes:

A bright and vibrant nose fresh cracked white pepper and floral notes of lavender and fresh thyme contrasting the fresh red berry fruit aromas. The palate is vibrant and juicy a medium bodied, silky mid palate and delicate acidity yielding a refreshing finish. Flavours of fresh red currant, strawberry jam, rhubarb and red cherry compote are complimented by earthy nots of cedar, forest floor and toasted cardamom. Drinking well now, this wine will continue to develop in flavour and texture to 2026.
Technical Notes:
Gamay Grapes were mechanically harvested from old vines (1998 planting) at the Bucknall Vineyard in the Vinemount Ridge sub-appellation. Harvest came early with the grapes picked on September 20th 2022 at an average 22.5° brix. After fermentation in a single small stainless steel vat the wine was racked an put into 100% 1-year old American Oak barrels where 80% malolactic fermentation was allowed to occur. After 9 months in barrel the final blend was produced and bottled September 27th 2023. Only 273 cases produced.
Product Description:

Vintage: 2022
Varietal: 100% Gamay Noir Appellation: Vinemount Ridge Vineyard: Bucknall Vineyard Alcohol: 12.4%
Residual Sugar: 3.2 g/L
Acid: 7.8 g/L
Production: 273 cases produced